Bergen County Academies Test Prep

    UPDATED PLATFORM FOR 2023-2024:
Summer 2023 courses begin in June. Contact us to learn more.

More features, more problems. Enroll in BCAcademy now.

Let us help you get ready.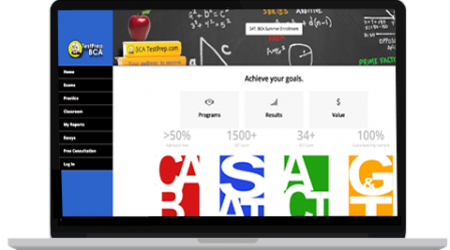 Join the leader in competitive high school admissions.

We help more students gain admission to competitive high schools across the Northeast than anyone else.
BCA Admissions Course  ($275)
Enrollment now open through November
Weekly live classes two-three times weekly up to 90 minutes each
Virtual access from your home with experienced instructors
Highly interactive. All study materials included.
Make the most of your time to get ready for the January exam.
SAT/PSAT Elite tutoring  ($275)
We helped many of you gain admission to BCA.
Now let us help you achieve your maximum SAT score.
Gain expertise on the new verbal exam with perfect SAT scorers
Virtual classes. Highly interactive. All study materials included.
Make the most of your summer. Enroll now.
Why do families choose our programs?

"A full BCA exam self-study course for less than one hour with a tutor!"



This season we have upgraded our online course. Our popular BCAcademy subscription, a hybrid self-study course to prepare students for the Bergen Academies admission exam, still contains over 20 practice exams, math drills, and over a thousand additional practice problems with related lessons. This year, however, the math course will be available separately at a reduced price. The combined math & essay package offers the chance to write essays and have them reviewed & graded. With a renewed focus on essay reviews, this feature alone is well worth the price of enrollment. On the math side, all subscribers prior to mid-November will receive our exciting new AMC-8 module for free. This unique, challenging package will prove to be a must have study tool.
Embark on an online adventure while learning the topics covered on the admissions exam. Earn points. Outrank your peers. Advance from a "Newbie" to "Beast Mode" and more. This adventure is a great way for many students to get their core training and an obvious option to complement any program.

Bergen Academies Test Prep

"Let our instructors help you identify & strengthen your weaknesses."



The admissions exam for the Bergen County Academies is challenging and different than most exams students confront in school. Even strong students will find they have gaps in knowledge and can benefit from some level of tutoring support.  Our experienced instructors can help you identify and correct your weaknesses either one on one or via small groups of 6-10 students per class. The virtual classroom experience is a highly interactive way for us to help you train effectively and learn the strategies to beat a standardized exam in math and essay writing. We have confronted the challenges of admission to many of the top high schools across the Northeast and can offer insights to help parents through the application process and students to become top performers. Our students' admission rates are among the highest in the business, and we stand behind it with a guarantee. Moreover, you don't have to break the bank to reach out for additional support.

Awesome Instructor!
Thank you so much for helping me study. I found that it was extremely hard to learn from my current math teacher, and you really helped me understand the material I missed. You're easy to learn from and this class has really helped me get better at algebra.

I got in!
I wanted to share that I have been accepted into BCA's Academy of AEDT. I wanted to thank you for all the help that you have given me with your class. I found your classes very helpful.

I scored 1570 on my SAT!
I've been working with you guys (BCATestPrep) for my Algebra 2 and Pre-Calc. On my first attempt, I scored 1570 on my SAT. I am so happy. Thank you. Thank you. Thank you.

Wonderful service.
I scored 36 on the ACT and will be attending Columbia in the fall. Simply want to say thank you for your wonderful service. The flexibility of coming home late after practice and joining class was invaluable.